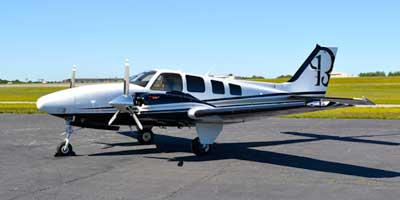 Beechcraft G58 Baron
The Beech G58 Baron began production in 2006, serial numbers TH2125 through TH2514+.
It is a twin-engine, piston aircraft configured as a cantilever low-wing aircraft with a conventional tail. Distinguishing features are: retractable landing gear, variable pitch propellers. Model 58 Baron seats up to 5 passengers and 1 pilot.
Specifications
Exterior Dimensions
Wing span: 37 ft 10 in
Length: 29 ft 10 in
Height: 9 ft 9 in
Interior Dimensions
Cabin length: 12 ft 7 in
Max width: 3 ft 6 in
Max height: 4 ft 2 in
Cabin area: 137 cu.ft.
Baggage: 28 cu.ft. 420 lb
Weights
Max TO weight: 5,500 lb
Empty Weight:  3,965 lb
Maximum Payload: 1,559 lb
Fuel capacity: 166 gallons standard 194 long range optional
Engine
Manufacturer: Continental Motors
Model: IO-550-C
Horsepower: 300 hp
Overhaul (HT): 1700 TBO or 12 years
Standard Avionics
Digital nav/coms pre 2000 transitioning to Garmin GNS530/430W and G1000 in 2006 and up
3 axis autopilot
Color Radar, GS, DME, ADF
3 blade props, prop ice, known ice 1990 and up
ADS-B In/Out
Performance
Horsepower: 300.00
Gross Weight: 5,500 lb
Top Speed: 223 kias
Empty Weight: 3,965 lb
Cruise Speed: 202 ktas
Fuel Capacity: 166
Stall Speed (dirty): 73 kcas
Range: 1,480 nm
 
Rate of Climb: 1,700 fpm
Rate of Climb (One Engine):
Service Ceiling: 20,688 ft
Ceiling (One Engine): 
 
Takeoff
Landing
Ground Roll: 1,373
Ground Roll 1,440
Takeoff Roll Over 50 ft: 2,345
Landing Roll Over 50 ft: 2,490
History
Introduced for the model year 1969, the larger, more powerful Baron 58 was developed from the Baron 55, introducing club seating, double aft baggage doors, and new gross weight of 5,400 lbs. The earlier Baron 58 was fitted with the Continental IO-520 285 hp engine. The Baron 58 can cruise at 200 knots (370 km/h) at 7000 ft (2100 m). The lengthening of the fuselage increased rear baggage space, as well as providing more comfortable six-place seating over the Baron 55 and 56TC. ICAO type designator of all versions is BE58.
A big change in panel/system layout on 58/58TC/58P and engines occurred in 1984. The new compact panel included relocating throttle, gear, flap, propeller and mixture controls to industry-standard positions to resemble the King Air panel. The engine was upgraded to a Continental IO-550 300-hp engine.
The current production version is the G58, featuring a glass cockpit, improved passenger cabin and changes to selected airframe details.
G58 Baron
Introduced in 2006, model G58 Baron came out with Garmin G1000 glass cockpit avionics installed.
Distinguishing Features and Equipment
Four side windows
Aft double utility doors for loading passengers
Aft club seating
Dual Flight Controls
Inlet scoop on top of engine nacelles
In 2012, serial number TH2340 were produced with upgraded automatic climate control system, LED external lighting package and deluxe interior styling.
The new interiors, which are available for both the Baron and Bonanza, were announced in September 2011 and phased into production in the second quarter of 2012. The upgraded styling was inspired by interiors of prestige cars, and built to improve cabin comfort and functionality.
The G58 upgrade encompasses a new air conditioning and automatic climate control system, which is approved for operation in all phases of flight, including take-off. The condenser and evaporator and has a "set and forget" feature allowing the operator to select the desired cabin temperature that will be automatically maintained by an Electronic Control Unit.
All external lights on the aircraft utilize LED bulbs which have no glass filament to break, so they are shock and vibration resistant while consuming significantly less energy. The solid state LED light lasts more than 8000 hours, greatly reducing operational costs.
Read more about the new Beechcraft Baron G58 here!
Today's Beechcraft G58 Baron's sell for over $1.35 million dollars and come equipped with the latest technology in integrated cockpit avionics, the Garmin G1000NXi. With an improved graphical interface, more powerful hardware, higher resolution displays, added functionality to improve situational awareness, and optional wireless technology, managing the flight deck has never been easier.
Newest Features and Options
Standard ADS-B Out and In
Optional wireless data base and flight plan loading
Standard Garmin Electronic Stability and Protection (ESP) and Under Speed Protection (USP)
Integrated VFR Sectional Charts
IFR High and Low Charts with Night Mode
Garmin Connext™ Satellite Iridium
Enhanced HSI features
COM frequency decoding
Vertical Situation Display
Selectable Visual Approaches
Optional Surface Watch for runway safety
Enhanced graphics and faster processing
Improved joystick with smoother panning
Simplified maintenance